If you're concerned about how to maintain your nutrition during pregnancy then, you've come to the right place. Following meal plans, also known as pregnancy diet plans or diet charts can help you optimise your nutrition during pregnancy. They include the best foods that can provide you with all the essential nutrients you need at your stage of pregnancy. You can pick and choose from the delicious dishes suggested to further adapt the meal plan to your tastes.
How to use our pregnancy diet charts?
Our diet charts serve as a general guide to help you plan your weekly meals better. Whereas the pregnancy nutrition plan is customised according to each user. The aim is to help you identify foods that you like, and which are good sources of the nutrients you need at your stage of pregnancy.
Points to keep in mind
The plans are made with fruit and vegetables available in all seasons so that no matter what season you are in, you will find food sources in the market for the nutrients you need. If a fruit or vegetable is not available in your nearest markets, you can replace it with any other seasonal fruit or vegetable that offers the same nutrients.
A single fruit or vegetable can be a source of multiple nutrients. So you may notice that the same food is recommended in one trimester for a certain nutrient, and in another trimester for a different nutrient. For instance, lentils (dal or pulses) are a good source of folic acid, omega-3 fatty acids and iron, particularly for vegetarians.
What else do I need to know?
If you have a medical condition, food allergies or follow specific diets, it's recommended that you check with your doctor first before making changes to your diet. If you have gestational diabetes, you should refer to our gestational diabetes meal plan. While using our meal plans, stay hydrated and aim to drink at least 8 to 12 glasses of water a day.
First-trimester pregnancy diet plans (4 - 13 weeks)
Although you need a variety of nutrients throughout your pregnancy to keep yourself and your baby healthy, here are a few nutrients which are particularly essential for your baby's development in the first trimester. The most important nutrients your body needs during the first trimester are folic acid, iron, and vitamin B6. Folic acid helps to protect your baby from birth disorders and neural tube disorders such as spina bifida and cleft palate. Iron is essential to produce healthy red blood cells that carry oxygen around your body. Not having enough iron can make you feel tired and breathless. Iron deficiency or anaemia (low Hb) is extremely common in India so, this nutrient is crucial during pregnancy. Morning sickness may leave you feeling queasy and unable to eat much. There is some evidence that suggests that foods rich in Vitamin B6 like peanuts, bananas, oats, fish, milk, fortified breakfast cereals etc. might help to ease nausea.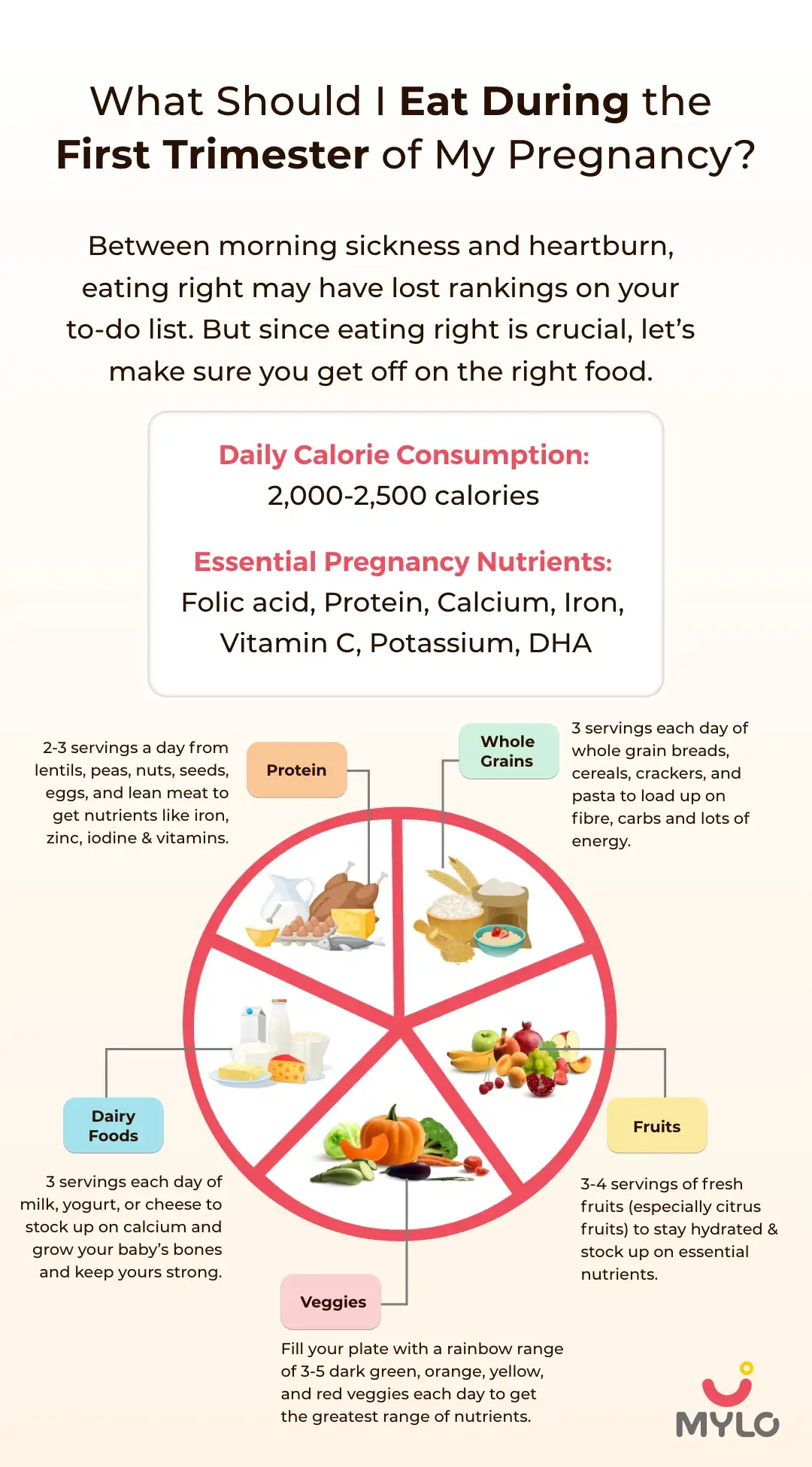 Second-trimester pregnancy diet plans (14 - 27 weeks)

In the second trimester of pregnancy, your baby's bones are growing and so is their brain. To boost their brain and bone development, you need plenty of calcium, Vitamin D and omega 3. Another nutrient essential to consume during the second trimester is beta carotene, a form of vitamin A that promotes healthy blood and skin. Additionally, iron-rich foods continue to remain essential as anaemia (low Hb) is very common in India, especially among vegetarians.




Third-trimester pregnancy diet plans (28 - 40 weeks)

In the third trimester of pregnancy, your baby's growth will pick up pace as they gain weight and prepare for life outside the womb. As a result, you'll observe that you're gaining weight rapidly. Try not to stress over the extra kilos and focus on eating a well-balanced and healthy diet. As your baby begins to build layers of fat, your energy requirements will witness an increase in demand. Vitamin K is essential for the blood to clot, which is important to prevent bleeding during and after childbirth. So, try to eat plenty of foods rich in vitamin K in your third trimester. Retaining its importance, iron continues to be an essential nutrient in the third trimester as well to prevent anaemia. If you are anaemic, and the condition goes untreated, you may be at a higher risk of premature labour.



Now that you know what to eat, just eat healthily and take care of yourself!